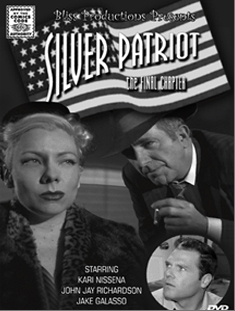 2005
Winner, "Best Director" 2005 48 Hour Film Project
Silver Patriot: The Final Chapter, was made as part of the 48 Hour Film Project. Nearly 50 teams in each of 30 cities world wide are picked to compete every year.
Each year, a Character Name, His/Her Occupation, A Line of Dialogue and a Prop. All must be contained somewhere in the film. Then each team draws a Genre out of a hat and has exactly 48 Hours to Write, Direct, Produce and Deliver their film.
SIlver Partiot marks the first time, Ian has shared the Director Title with long time DP and producing partner Roland Canamar. Their collaboration brought forth a Best Director Award in this year's (2005) 48 Hour Film Project, as well as Best Use of Genre. Here were the elements for 2005:
Character: L. Schnabel, telephone sales rep.
Dialogue: "That's the whole enchilada"
Prop: Flag
Genre: Superhero
This Film Noir serial pits a Femme Fatale against Rivertown's finest, as a crime of passion sheds light on a devious villain's plot to kill the city's super heroes.
Rivertown's police detectives divert from their hunt for the superhero-murdering villain, Dr. Chameleon, to investigate a crime of passion. Detectives question the desperate femme fatale about the violent death of her abusive husband and release her until the autopsy results are available. The coroner discovers, too late, that the victim is really Silver Patriot, and that the police have again let Dr. Chameleon slip from their grasp. Dr. Chameleon makes her getaway and recalls how she patiently posed as Silver Patriot's devoted wife as she slowly poisoned him until he was weak enough for her to finish him off.
She drives away into the sunset, in search of her next super-victim…
CAST & CREW
Starring: Kari Nissena & John Jay Richardson
Written by: Julie Marsh Nelson, Robert Duchaine & Becky Pedigo
Directed by: Ian Harris & Roland Canamar
2005 – Bliss Productions