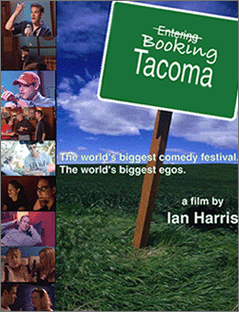 2004
Ian Harris's second feature film, Booking Tacoma, on the surface seems very similar to his debut feature, It Burns When I Laugh. In fact, if it weren't for Burns, Ian may not have been brought in to helm Tacoma, another mock-doc centered around stand-up. That's where the similarities stop, though. Tacoma is more a story of two friends, both in search of the same dream. The Tacoma comedy festival is THE place for a young comic to get discovered. Out of thousands of comedians around the world, only ten new faces are selected each year. Booking Tacoma, gives us an insider's look at the world's most prestigious comedy festival, where not only careers, but life-long friendships are in jeopardy, and no one knows what they're looking for, not even the festival bookers. Tacoma was shot with practically no script, using many of today's top improv actors, comedians and celebrity cameos.



CAST & CREW
Directed by
Ian Harris
Produced by
Max Nelson, John Leslie & Neal Doherty
Director of Photography
Roland Canamar
Written by
Pete Gray & John Leslie
Edited by
Pete Tapia
Assistant Director
Jeremiah Jones
 Cast:
Bob Oshack – bob mitchell
Pete Gray – alex young
Bobby Lee – tommy cho
Chelsea Handler – casey hamilton
Patrick Ney – lyle murphy
Max Nelson – blair woods
Mike O'Connell – dutch van zandt
Sean Quinn – filmmaker
Bob Odenkirk – dr. kappler
Melissa Paul – groupie #1
Stephanie Escajeda – groupie #2
Mike Pace – brian knight, manager
Dan Gabriel – gabe, festival scout
Laura Silverman – koko, festival scout
Steve Schrippa – eddie grandinetti
Barry Sobel – david klein, agent
Rhetta – herself
Chris Hardwcik – himself
Bil Dwyer – himself
Robert Hawkins – tim bagwell, network exec.
Jamie Massada – himself
Adam Gropman – guy in shorts